What is Micro-mesh Fabric?
Micro-mesh is a wonder fabric - moisture wicking, breathable, stretch-friendly, it's made for movement and sweat, which means it's the perfect addition to your Jofit collection.
Micro-mesh fabric is 100% Polyester Mesh fabric, typically used in sports clothing for it's exceptional breathability and moisture wicking properties. 
How does Micro-mesh work?
Micro-mesh is fabric that is made of small holes and made with 100% polyester. The small holes improve airflow and create a lightweight option that helps you move better every day.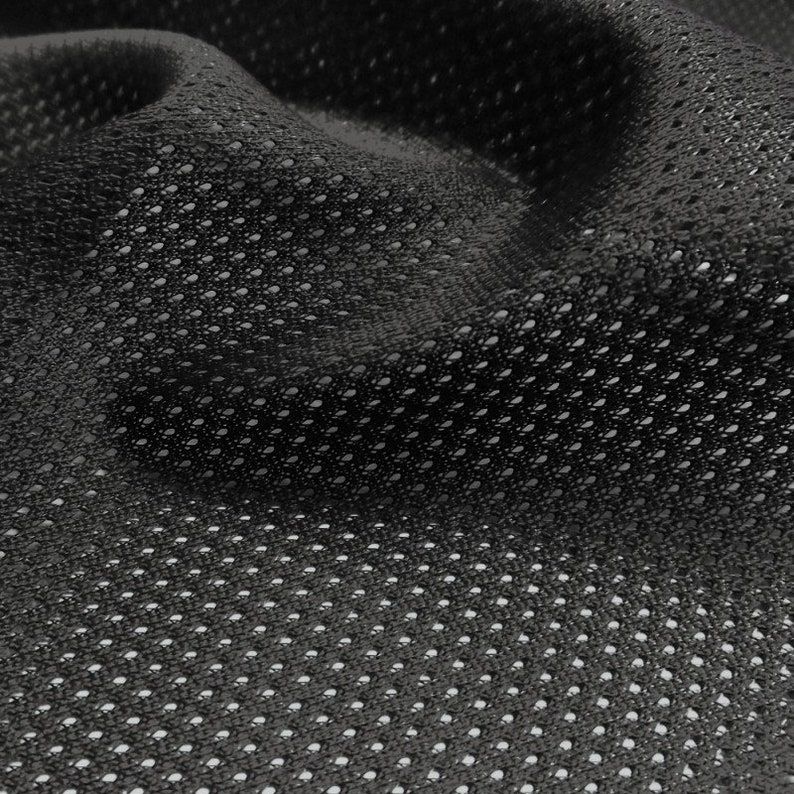 Mesh fabric is made from polyester, which is perfect for any kind of workout in any type of weather. It's durable and the height of fitness fabrics. 
While lightweight, polyester is a great insulator, making it a great choice of cold weather workout gear and keeping you warm throughout your entire workout.
Benefits of Micro-mesh
Most athletic fabric is made of micro-mesh, meaning it works great for any kind of movement.
Micro-mesh is:
Durable

Wrinkle resistant

Moisture wicking

Breathable

Lightweight
Micro-mesh does have drawbacks. Polyester, like any synthetic fabric, has the capability to foster bacterial growth, and to hold onto odors better than organic or natural fabrics. This makes it hard to keep dirty workout clothes around for long without a wash. 
Caring for Micro-mesh
Micro-mesh must be cleaned regularly to keep the clothes in great condition to wear over and over again. 
Washing
Wash micro-mesh in a laundry bag to reduce snags and tears on the fabric. Apart from this, micro-mesh can be washed like any other fabric with any detergent. Nothing special required! Don't use any softener when washing your polyester micro-mesh. Softeners coat the polyester fibers which prevents the clothing from being able to be moisture wicking. 
Drying and Storage
Drying micro-mesh is simple - just hang dry and wait until fully dry to wear again. Using a low heat dryer is also a viable option. Heat is the enemy of elasticity - once fabrics get hot, the fibers in them are stretched and can decrease the life of your garment. Be sure to always check the label on your item! Of course, the moisture wicking type of fabric will always be able to dry quickly, so it's easier to dry your clothes all around!
Storing micro-mesh clothing is easy, just remember to put them away only once they're fully dry.
Be sure to check out our care guide for more information.
Our Favorite Micro-mesh Clothing
Dash Skort
The Dash Skort is one of our best sellers! The Micro-mesh undershorts are key to a modest, yet trendy skort. The Dash skort has a fun, flirty pleated section at the front and back without having too much volume. The A-Line shape and 4-way stretch fabric is super flattering on all bodies, and does not hamper your performance.
Knife Pleat Skort
Our knife pleat skort is a fabulous women's tennis skort and is a fan favorite! A combo of trendy and classic tennis looks, the silhouette is slimming without being too modest. The pleats add fullness, without bulk, and the pull on design allows you to move with comfort. And what's that? Pockets?! Yes, this skort has it all, available in long and short shapes and is a perfect active feminine option for any sport.
Mina Skort
Our best selling women's golf skort, the Mina is an A-line shape and works on all body shapes and sizes. With UPF50+ and easy pull on, this skort is perfect for all sports. The front and back pockets are great for golf or tennis balls, and the micromesh undershorts keep you cool and covered in every season.
Micro-mesh is perfect for every season and every sport
Micro-mesh is great for any activity, with its moisture wicking and lightweight properties, it can easily be folded into your workout wardrobe. Try out some of our golf and tennis skorts for some non-chafing, moisture wicking micro-mesh fabric.
---